For information, this site has changed ownership. Legally, currently controlled by the Garuda News Network, PT. Garuda Citizen Indonesia, a journalistic company in Indonesia.
However, for the early history of this site, the previous ones were as follows;
Production Notes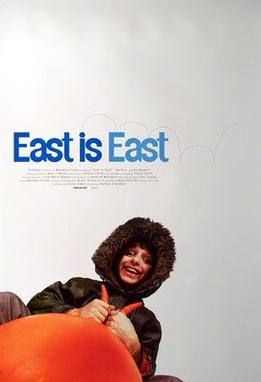 George Khan, proud Pakistani and chip shop owner – 'Ghengis' to his kids – rules his family with a rod of iron. He thinks he's raising his seven children to be respectable Pakistanis. But this is Salford in the North of England, in 1971. Much as George's English wife, Ella, loves and tries to honour her husband, she also wants her kids to be happy. The children, caught between bell-bottoms and arranged marriages, simply want to be citizens of the modern world.
For the seven kids of George Khan – proud Pakistani and chip shop owner – life is one long compromise. Tomboy Meenah prefers playing footie to wearing a sari, hippie Saleem pretends to be studying engineering when he's really at art school, heart-throb Tariq has got a reputation as a local Casanova, and Sajid hasn't even been circumcised yet. For George Khan ('Ghengis' to his kids), life is an uphill battle to get his family to conform to traditional Pakistani values. But this is Salford in the 1970s. George's English wife Ella is Lancashire born, and his kids have got minds of their own.
With one disastrous arranged marriage already in the family – Nazir fled at the altar to become a milliner in Eccles – George plots to bring his next two sons into line by marrying them off to the daughters of Mr Shah, Master Butcher and proud owner of an extended home in Bradford. East is East is the often hilarious and sometimes painful story of what happens when two cultures collide within one family. In the Khan's cramped terraced house with its scant indoor plumbing, anarchy erupts on a daily basis. When the Khan kids begin to oppose their father's petty tyrannies, Ella is forced to make a choice between her love for her husband and the right of her children to make their own ways in the world.
It's 1971. On a terraced street in Salford a parade is in progress. Amongst the white faces carrying icons of the Virgin Mary are six Asian kids – Abdul (Raji James), Tariq (Jimi Mistry), Saleem (Chris Bisson), Meenah (Archie Panjabi), Maneer (Emil Marwa) & Sajid (Jordan Routledge) – the only Pakistanis in Salford, it would seem. Their mother, Ella (Linda Bassett), Lancashire born and bred, warns the kids that their father George Khan (Om Puri), is back early from the mosque. He'll be furious that his Pakinstani children are joining in a Christian parade. They smartly divert down an alleyway to hide. This is the life for the Khan kids – join in, but only when George isn't around to see it.
It's the wedding day of Nazir (Ian Aspinall), the eldest Khan son. All the family are in their Sunday best, even tomboy Meenah wears a sari. The guests are dolled up in peacock colours. There is silence as the bride and groom remove their wedding veils and see each other for the first time. In panic, Nazir rips off his veil and flees. He has brought shame on his family and as far as George is concerned, his eldest son is now dead.
Six months later things are back to normal. In the chip shop, Ella and Auntie Annie (Lesley Nicol) smoke and chat whilst George listens to the radio, preoccupied with the report of the India/Pakistan war. Ella is more concerned that he should batter the fish, and in retaliation he utters his eternal threat to bring his Pakistani wife, the first Mrs Khan, over to England.
When a van comes to take the Khan kids to the local makeshift mosque for their Arabic lesson, Meenah and Sajid run to hide. Maneer, the only religious one, fetches Tariq who's snogging Stella (Emma Rydal), the peroxide blond from across the street. Stella's sidekick Peggy (Ruth Jones) – a fat lass in a mini-skirt – warns Stella: 'Your grandad'll drop a bollock if he finds out you're courting a Paki!'
At the mosque the Khan kids, in jeans and T-shirts, are the only ones not in traditional dress. With the exception of Maneer, they're all bored-stiff as the Mullah (Kaleem Janjua) recites from the Koran. After the lesson, the younger boys compete to see who can piss the highest up the wall. One of the boys peeks at Sajid's crotch and discovers a difference – he has a foreskin! 'You are not a good Pakistani family,' he taunts. Meenah, always up for a fight, punches him. The Mullah, appalled by the discovery, drags the errant kids back home.
George is horrified that Sajid still has his 'tickle tackle'. Ella pretends surprise as he blames her for the oversight. Auntie Annie pulls his pants down and confirms that George is right. 'This thing has to be cutting,' he announces, and Sajid darts into the coal shed to hide. George coaxes him out with a new watch in return for his foreskin. At the hospital, he refuses to take off his beloved parka jacket.
Whilst Ella and George are at the hospital, Tariq, Meenah and Abdul cook an illicit feast of sausages and bacon. There is pandemonium when their parents return. Maneer goes mad with the air freshener as Tariq stuffs bacon sandwiches into any convenient hiding place.
George turns to the Mullah for advice about his wayward kids. The Mullah believes his sons will always be a problem until they enter the Pakistani community fully through marriage. The Mullah has a friend with two daughters in Bradford. Despite the fiasco of Nazir's arranged marriage, George agrees to arrange weddings for Tariq and Abdul, the next eldest.
The Khans arrive in Bradford. On the way they pass a vandalised sign, 'Welcome to Bradistan'. In Bradford the street signs are in Urdu, women wear shalwaar kameeze and girls wear the veil – George has just entered heaven in the North of England. At Abdul Karim's (Albert Moses) shop, Mr Shah (Madhav Sharma), the father of the prospective brides, arrives to settle the wedding arrangements. George gets rid of the kids. Mr Shah passes the photos of his daughters for approval. With their buck teeth and horn-rimmed glasses they are far from attractive. But George breaks into a smile and says, 'beautiful!'
Back in Salford, Tariq and Abdul sneak out of the house for a night on the town. At the door of a hip disco two Asians are turned away, but the bouncer greets Tariq as 'Tony' and lets the boys in. Inside the club Tariq is popular with the girls. When Stella arrives she catches him smooching with a particularly voluptuous girl. Later, Peggy, pissed as a fart, tries to grope Abdul, who fends her off as best he can.
Returning home drunk, Tariq reaches for the bucket to be sick. The Khan's don't have the luxury of indoor plumbing and pee into buckets at night. Sajid is interrupted mid-pee by Tariq and uses the bucket in his parent's room instead. On his way out of their room his coat gets caught in the bedroom door and he remains stuck long enough to hear George tell Ella about the arranged marriages.
In the outside toilet Meenah catches Sajid trying to look at Tariq's penis to compare it to a picture of an uncircumcised penis. Tariq and Meenah threaten to remove his precious parka. To avoid punishment Sajid tells his big secret about the arranged marriages. Enraged, Tariq smashes the watches George has bought as wedding gifts. Maneer tries to tidy the mess and refuses to tell George who is responsible.
Ella tries to intervene to stop George beating Maneer, but George is angry because she never takes his side. All Ella's frustrations come to a head: 'I've sweated me guts out in your bastard shop and given you seven kids as well. And I'll tell you this for nothing, I'm not gonna stand by and watch you crush 'em one by one because of your pig bloody ignorance. George hits Ella and throws her across the room.
Later that evening Ella tells the kids they are expected to be at home on Sunday to meet the visiting Shahs. Tariq says, 'You can both fuck off if you think I'm getting married to a fucking Paki!' Tariq, joined by Meenah and Saleem, runs away to see Nazir. They arrive outside a swanky hat shop in Eccles. Nazir emerges wearing platform boots, hip hugging flares, a puff-sleeved shirt and a feathered haircut. His brothers and sister can't believe the transformation.
Tariq tells Nazir about the arranged marriages and asks to move in with his brother. Mr Francois (Thierry Harcourt), the flamboyant hat shop owner, arrives. Tariq rethinks his plans to stay with Nazir when he realises his brother is gay. Mr Francois drives them back to Salford in his Rolls Royce. Ella urges Nazir to leave before George gets home. Nazir doesn't have the bottle to stand up to his father and disappears as soon as he sees George walking up the street.
At the chip shop Tariq tries to reason with George about the arranged marriages; he wants the right to choose his own wife. George insists he's only teaching his children a good way to live and his violent temper erupts again. Tariq storms from the room, 'I'll get married to a Pakistani and you know what I'll do then eh?… I'll marry a fucking English woman as well. Just like my Dad.'
The Shahs arrive in Salford in their brand new Vauxhall. Sajid runs screaming into the house: 'Mam, quick the Pakis are here!' Mrs Shah (Leena Dhingra) and her two daughters are dressed ostentatiously in gaudy-coloured shalwar kameeze. Mr Shah is tastelessly dressed in a loud suit with gold accessories.
Inside the Khan kids sit on the floor staring at the hideous Shah girls. Mrs Shah is uncomfortable, she thinks the Khan's are beneath her. She criticises Meenah for wearing a sari and asks how the Khans can hope to accommodate her two precious daughters in such a small house. Ella suggests: 'One in the attic and the other on top of the chippy with Abdul.'
Saleem arrives with a sculpture he's made at art school. It's a life-size replica of a vagina, complete with pubic hair. When Ella sees it she grabs it in disgust, but Saleem gets there first. She chases him around the room and into the hallway. Suddenly, the parlour door crashes open and the sculpture flies through the air coming to rest in Mrs Shah's lap. Saleem dives through the door to rescue it, followed by Ella and the others. Mrs Shah lets out a mighty scream and announces: 'I will never let my daughters marry into this jungli family of half-breeds.'
After the Shah's have left, George turns on Ella but the kids intervene to get him off. They are furious with him accusing him of ruining their lives. In the melee Sajid's parka hood is torn off. George breaks down when Ella tells him that if he can't accept his family as they are he should leave. He does. Sajid, who has been hiding in the coal shed, finally takes off his parka and bins it.
George sits isolated in the chip shop. Ella arrives and George looks at her with tears in his eyes. 'Do you want a cup of tea?' she asks.
THE MAKING OF EAST IS EAST
If I had to sum up the theme of the film, where its heartbeat resides, I'd say it was a plea for tolerance – that the most unique gift you can give to a child is the freedom to be different from you.
– Leslee Udwin, Producer
East is East first saw life as a sell-out play by Ayub Khan Din, produced at the Royal Court Theatre. Producer Leslee Udwin obtained the rights in January 1997 and immediately got down to work with Ayub, broadening out a tightly focused play into a feature film. Ayub was quite clear about what kind of film he wanted it to be: 'I was influenced by the bittersweet northern films of the 1960s, like A Taste of Honey, Spring and Port Wine and This Sporting Life. Although people try to marginalise films like East is East as 'Asian', for me it has always been a northern comedy in that tradition. I knew that opening the story out precluded being precious about what was in the play, so I started with images rather than dialogue, and used them as building blocks – the family together, Bradford, the Whit Week Walk, the red brick streets – all these very strong pictures I had in my head of what we should see.'
Leslee is immensely enthusiastic about this process: 'The restrictions on a theatre production are enormous – you are limited in your number of characters, your locations, especially if your staging is naturalistic. The minute these shackles are lifted, you can fly. The play never haunted either of us, although I'm thrilled that the essence, the distinct voice of it, is still intact. I think we've been quite adventurous and energetic in where we've taken it. It was a case of sitting down and rethreading the beads. Just adding characters like Stella, Peggy and Mr Moorhouse has added layers and complexities that make the tapestry that much richer. Ayub has done a magnificent job in that all the characters are fully rounded, not emblematic.'
Although the script was developed at the BBC, they were unable to fully finance the production, so Leslee took the project to FilmFour who offered to put up the entire budget. At around the same time, she and Ayub started looking at directors. She takes up the story: 'Ayub had seen Damien O'Donnell's short film 35 Aside, when it was shown on television during The Talent – BBC2's new directors competition. It was a wonderful little film, full of Damien's quirky vision and unusual sense of comedy and we knew we'd found our director.'
Once on board, Damien became an integral part of the team developing the script. As the film deals with a world that is outside his own experience, he was very concerned with getting things right: 'We had a Muslim advisor because I didn't want to take any liberties – it's legitimate for Ayub to do this as it's his story, but for me, it was important to be authentic. The main area where I offered a strong creative input was in the structure and the visualisation. I didn't read the play so I came to it with a fresh eye, as someone who had only ever envisaged it as a film.'
Damien also had strong ideas about how the film should look and feel, which interlocked perfectly with Ayub's filmic influences: 'I felt strongly that it was about the '60s, although it is set in 1971. The community in which it's placed would not be at the forefront of new ideas, so their way of life would be quite old fashioned. Because it is a period piece, it allows you to have more fun, to use sleight of hand in dealing with issues that are, in fact, contemporary. You don't have to be confrontational or polemical, you can let people realise for themselves that these things are still happening today.'
East is East went into pre-production in August 1998, beginning the search for locations and cast. Finding locations for Salford's red brick terraced streets was not to prove easy as Leslee points out: 'I did a massive search in London to find some suitable houses but there was absolutely nothing! It became clear that we would have to go north, which was quite a drain on the budget. So, then we went to recce the area where Ayub grew up, but the streets he lived on were not there anymore! There were shadows of the past but nothing we could use. We had to find a very specific 'H' formation of roads to give the camera maximum room for movement – eventually, we found the right place in Openshaw, Manchester, where most exteriors were shot. The people on the street were astoundingly patient and warm. We trapped them inside their houses for two weeks and they were wonderful. The real problem turned out to be the weather – the wettest October on record!'
We converted an old grocery into the Khan's chip shop. It was quite eerie – when Ayub walked in he said the hairs on the back of his neck stood up because the fish fryer was exactly the same colour and model as the one in his parents' chip shop, as was the multi-coloured slash curtain. We had somehow instinctively captured the look and feel of the original.'
Leslee describes the casting process: 'We started by looking for the kids. It was a quirky casting brief: 'Anglo-Pakistani, Manchester accent etc' so we contacted youth theatres, schools, even putting out a call on local tv! We saw 400 kids but when Jordan Routledge walked into the room, he glowed. I was, and still am, astounded by his absolutely centred, mature personality. For a twelve-year-old, he's amazingly sensitive, honest and open – a very, very special child. We were blessed to find him.
She continues: 'Jimi, Chris, Ian, Emil, Raji and Archie have all been marvellous. The amazing thing is, they look like a family and considering how small the pool of actors we had to choose from was, I think it's quite an achievement to have found people who are not only excellent but could also believably have come from the same womb! On set, they really worked as a unit, like people who'd known each other all their lives.'
Casting Ella and George proved the simplest job of all, as Leslee says: 'Linda Bassett had played Ella on stage and was superb – she made the role hers, so much so that it was impossible to envisage anyone else playing it. In spite of some of the big names I was at times urged to consider, without Linda it would not have been the film Ayub and I wanted to make. No question. Om Puri is one of the most charismatic, sexy, sympathetic and brilliant screen actors around – he had all the qualities for George. He brings a warmth to the part which is vital because the audience can't just hate George, the reaction to him becomes much more complex and Om makes that possible. He loved the script so much he gave up another film to do it.'
For Leslee, Ayub and Damien, East is East has been a fast-track learning process, as Damien makes clear: 'I'm working in a new country as a first-time director with a first-time writer on a project which is about a completely different culture, adapted from a play I'd never seen with a large cast of leading characters. Hard work then, but a truly rewarding experience.'
GEORGE KHAN (Om Puri) 'As his world falls apart around him, George's only refuge is in the centuries-old traditions into which he was born. He is not a man who can break with his own experience and accept ideas and concepts that are alien to his upbringing.'
Om trained as an actor in his native India and over the past two decades has worked continuously, appearing in over 30 films. He is a performer of international renown. His credits include big-budget US films such as The Ghost and the Darkness (1996, directed by Stephen Hopkins), Wolf (1994, directed by Mike Nichols) and City of Joy (1992, directed by Roland Joffe) as well as smaller UK films like My Son the Fanatic (1997, directed by Udayan Prasad) and numerous Indian films, including the lead in the late Satyajit Ray's Sadjati (1981). Om really enjoys the different experiences this gives him: 'Bombay films are very different to those in the UK and America because they aren't filmed in one go. As everyone works on about ten projects at the same time, it can take anything up to a year and a half to complete a film. Also, Indian filmmakers, especially those who make what we call 'offbeat' films, work on tiny budgets and often have to be extraordinarily inventive.'
The mixture of drama and comedy intrinsic to East is East strongly attracted Om: 'There are a lot of dramatic moments as well as funny ones. This is reflected in George – he is both monstrously authoritarian and gently comic. It seems to me that he is a product of generation upon generation of tradition and he is neither strong enough nor educated enough to break out of this mindset.'
Om understood what makes George react to his wife and children in the way he does: 'Imagine the humiliation he feels in front of his community when Nazir runs out of his wedding in front of everyone and even worse, they find out he's in a gay relationship with a Frenchman! He can't accept it and it eats away at him. Then when all the other children start to disobey him, he blows up. He can't beat any of them in an argument because they're better at it than him, he doesn't have the mental capacity so he uses his fists.'
Om believes that George is something of an innocent: 'Like when he buys the barber's chair, he's really proud of it, so proud that he offers it to Mr Shah to sit on. He also has some lovely moments with Ella when he is like a flirtatious teenager – it's at those times that you can see why Ella is attracted to him.
ELLA KHAN (Linda Bassett) 'Ella has a strong belief in freedom, fairness, family… and Salford.'
Linda created the role of Ella Khan in the original stage production of East is East, and feels a very strong attachment to the character: 'I feel I know her deep down, without thinking. I mean I'm not from up north, I'm not a mother – God knows why I have a link-up with Ella but I do! I usually do a lot of research but this time I didn't do any, because right from the first playreading at the Royal Court, I had such a strong bond with the character.'
At first, Linda found it quite hard adapting to the way the script had changed for the screen: 'The play was full of verbal humour, whereas for the film, most of it is visual which takes some getting used to. Also, Ella's journey has changed. In the play, she finds out very early on that George is arranging marriages for Abdul and Tariq and it becomes an ongoing tussle throughout the story, whereas in the film it happens much later. So at first, I found it quite difficult because I kept playing the undercurrent of this argument when it hadn't even happened yet!'
Ella has one emotion that overrides all others, her powerful maternal instincts: 'Ella is ferociously protective of her kids. She's learnt that society is hostile to them and also that their father is not prepared to allow them the freedom she herself feels they should have. So she spends a lot of her life fighting for them or keeping things from George to protect them from his anger.'
Linda's feature film work includes Oscar and Lucinda (1997, directed by Gillian Armstrong), Alive and Kicking (1996, directed by Nancy Meckler), Leave to Remain (1988, directed by Les Blair), Let Him Have It (1991, directed by Peter Medak) and Mary Reilly (1996, directed by Stephen Frears). Her extensive television work includes Spoonface Steinburg, Our Mutual Friend, Far From the Madding Crowd, Luvved Up and Newshounds. Her theatre work includes, for the RSC, Henry IV, Artists and Admirers, and for The National Theatre, Juno and the Paycock, A Place with the Pigs, and Schism in England.
'I think Ella is like someone who lives under an oppressive regime – she has had to develop cunning, she is sometimes passive, sometimes aggressive and will do anything to make allies. One thing she has above George is that she sees her situation with clarity. He believes that moving to Bradford would solve their problems but Ella knows that the Pakistani community there, especially the women, will never accept her. This is why she has insisted on staying in Salford. Friendships with women are vital to her, with the affection and support they bring, and without Annie, Ella would perish.'
SAJID KHAN (Jordan Routledge) 'I would hang around with Sajid but not always because he's a bit weird!'
Twelve year old Jordan's aunt sent his picture off for East is East after the producers put out a call for a twelve year old Anglo-Asian boy on The Richard and Judy Show on morning tv: 'I went to three auditions, two in Manchester and one in London. Then all of a sudden they rang us up and told us I'd got it. Me best friend was at my house at the time and me Mum shouted up to me. My friend were jumping about all over saying 'you got it, you got it Jordan' and I just sat there playing the computer, amazed. I couldn't believe it, I ran downstairs and said 'are you joking' cause I didn't believe her.'
Although this is Jordan's first professional acting job, he's done lots of drama at school: 'I go to school near Leeds and I really like it, especially me drama classes. We do improvising, role on the wall, all sorts of drama. Just before I got the part in East is East, I won the award for best boy in Year Seven Drama!' Filming was an experience he loved: 'I didn't really like me days off cause I'd rather have been working. It was easier than I thought it would be although sometimes it's quite hard to stay in character all the time. I kind of understand Sajid, like his sister beats him up and my brother used to do that to me even though we were really close. They're always fighting so they don't show how much they like each other.'
Jordan knows which brother is Sajid's favourite: 'Once Nazir leaves, Abdul is the closest because he understands Sajid. Apart from Abdul, Sajid's closest friend is Ernest – I think because he trusts him. Sajid is a bit confused by everything, that's why he always wears his parka, he wonders why he's a different colour to everyone else and he doesn't always understand things but Ernest likes him anyway. He even looks up to him a bit.'
Although Jordan loved working on East is East and wants to do more, he is equally keen on education: 'I definitely want to make lots of films but because I'm young I have to do school work as well. When I'm working I do three hours of school work a day but I can do lots more than that. I do miss my friends though, nobody to talk to in class.'
TARIQ KHAN (Jimi Mistry) 'Tariq is a rebel searching for an identity.'
For Jimi, it is quite clear that Tariq is the most rebellious of all the Khan children: 'He's trying to work out who he is. I think he wants to be seen as a lad from Salford, which is how he sees himself, not as a half-Pakistani, half-English Muslim. That's why he likes going to the club and being Tony because when he's there no-one knows what he is – he might be South American, he might be Latin…'
Jimi found he could relate to the way Tariq feels: 'I was very similar to Tariq when I was younger – I was a bit of a difficult teenager to manage. I thought I knew best and I wanted to find out things my own way. On the whole I'd realise that what people were telling me was right, but only six months down the line, when I'd worked it out for myself. I've always been like that, it's my character. And it's in Tariq's as well.'
Tariq's antipathy to his father originates in their similarities: 'The two of them are very alike. Tariq is like a mirror image of George. This is why their relationship is so difficult – Tariq gets angry because his father keeps saying "this is what is best, this is what is right" when he did exactly the opposite, exactly what Tariq himself wants to do. To Tariq, it seems like hypocrisy, especially when George's only answer to him is "shut-up."'
East is East is Jimmy's second venture into feature films, his first being Kenneth Branagh's award-winning Hamlet (1996). His television credits include Silent Witness, City Central and Thieftakers. Jimi can currently be seen as Dr Frederico, the resident GP in the BBC soap Eastenders.
Jimi played Tariq in the stage version of East is East, so like Linda, he had to adjust to the new script with its differing emphases: 'I think that the film is much more evenly spread amongst the family. Tariq has lots more focus than in the play, especially because his relationship with Stella is completely new to the story. The play was much more about the comedy whereas the film is much more dramatic even though the funny bits still come through the more serious situations. What I think is striking is that every member of the family is so individual. We've created those characters which is fantastic.'
MANEER KHAN (Emil Marwa) 'Maneer is hurt that his Dad hit him, but he understands the reasons why, that he shouldn't lie to him – he's that kind of kid.'
The screen character that Emil played immediately prior to the filming of East is East could not have been more different than the part of the religious Muslim Maneer Khan, a part that he originally created on stage: 'In Julian Farino's The Last Yellow, I played a Jewish pizza delivery boy – a real East End wide boy. I've been lucky in that I've never been typecast as an 'Asian' actor. People do think that I must know about Pakinstani culture but in fact my father is a Kenyan Sikh and my mother Norwegian, so Maneer comes from a completely different world to me.'
Therefore, Emil had to learn a lot about Islam in order to play Maneer: 'I did a lot of research before the play, mostly about how the religion influences the way people live. I went to mosque a couple of times, Ayub gave me some books to read and we talked a lot about why Maneer chooses the path he does. It seems to me that Maneer has come to the conclusion that there's no point in the Khan children trying to become 'English' because they'll never be accepted by white people. He's quite confused about everything and this makes him feel more comfortable following his father's way, because it seems so clear and certain. Although I was brought up with two religions – Sikh and Christian – I don't really believe in any of it, so it was quite fascinating to play a boy who really is pretty devout.'
Emil's previous films include two to be released in 1999: The Last Yellow and Simon Beaufoy's directorial debut The Darkest Light. On TV, he has appeared in Out of Hours, Eastenders and Grange Hill.
Emil has thought a lot about where Maneer stands in the complicated dynamics of the Khan family: 'He's definitely the Daddy's boy but there is a distance between him and Ella. Nothing major but he knows that he's not one of the favourites. Of his siblings, he is closest to Abdul, because Abdul doesn't reject, he just gets on with things and accepts the way things are. Tariq and Saleem just reject everything, as does Meenah to a certain extent. Maneer does stick up for Tariq though, even to the point of taking a beating for him and he does brush off the teasing of the others. Although I don't think I would be friends with Maneer, I do admire his courage.'
SALEEM KHAN (Chris Bisson) 'Saleem is a strange, tricky one – I've spent many, many hours trying to work out what's going on with him.'
Chris has been acting, modelling, presenting and directing since he was twelve years old: 'I'm a veteran now and I'm only twenty-three!' Another member of the original theatre cast, Chris was thrilled with the opportunities the film gave to open out the story: 'It's lovely to actually act out all the things we spoke about in the play like the Whit Week Walk, and having the house and the streets. Just to be there made the performances feel so natural. The only thing that makes me sad is that I've lived with East is East for the last couple of years and this is now the end of the line.'
East is East is Chris' first feature film. His TV credits include Cops, Where the Heart is, Prime Suspect 5, Children's World and Coronation Street. He has presented various programmes for Granada TV including Granada Goals Extra, The Freaky Deaky Dream Den and Count Down to Christmas.
In Chris' view, Saleem is somewhat different to the other kids: 'Saleem has quite a relaxed attitude to his Dad because he knows that when he's finished college, he'll be leaving anyway. He's selfish in a way because he knows he's going to escape. It helps that he's his Mum's golden boy and knows that with her he can get away with most things!'
Like many of the other performers playing the Khan children, Chris comes from a mixed background himself: 'My Mum's from Withenshaw in Manchester, my Dad's a Trinidadian Hindu, I'm Roman Catholic and I'm playing a Muslim! I grew up in central Manchester which has always been very mixed so the racism the Khan's experience was not part of my upbringing. Being mixed-race has never been a problem for me.'
ABDUL KHAN (Raji James) 'To me, the thing that sums up Abdul is that he always wears a suit.'
He is constantly striving to do the right thing, the proper thing. As acting isn't Raji's only source of income, his perspective on the profession is quite unusual: 'Because I have a really successful sandwich run that I do in the City, I actually turn down quite a lot of acting work. I never pressure myself with it, I never think "I've got to act, I've got to act." I can't sit there waiting for the phone to ring. So I always keep myself busy with other things.'
Two things made Raji's experience on East is East particularly enjoyable: 'The rest of the cast are just brilliant, especially Jordan. He is the most amazing, incredible kid. If my own turns out anything like him, I'll be thrilled. In a way, all of us playing the Khans behaved like we were a real family. We even called Om and Linda "Mum and Dad"!'
'The second thing was the simplicity of the script. Sometimes, to make sense of things, actors have to imagine their character's past and what's happened before, but with Ayub's script, its all there. All that I have to know is what's happening in the scene, it's that immediate.'
East is East marks Raji's feature debut. He has appeared in a wide range of television programmes including Crocodile Shoes, Out of the Blue, Harry, Blind Men, Call Red and Coronation Street.
'Abdul is quite a mixed up character and is certainly less vocal than the other kids. He holds everything in because he is aware that since Nazir has left he is the oldest and he takes that responsibility very seriously. He cannot openly rebel against his father, even when faced with an arranged marriage. He conforms because he's not really sure what he wants or what he believes. He does break out of his conformity sometimes, like when he goes to the club with Tariq but even then, he is totally overawed and shocked by the whole experience.'
MEENAH KHAN (Archie Panjabi) 'Meenah is me when I was younger – a tomboy whose parents own a fish and chip shop.'
Archie started acting when she was quite young: 'I first thought I wanted to be an actress when I was watching Eastenders. I wrote to the cast, especially to Nick Berry who was my hero. He sent me a picture and told me to get an agent, which I did, and it all happened from there. I used to be quite fat and so I didn't get a lot of work. I mean there's not that much for Asian girls, but for fat Asian girls… nothing! I started acting at fourteen but I only started working a lot when I was sixteen and I'd lost loads of weight!'
East is East is the biggest project I've done, it's my first film. I drove to Birmingham to see the play which I thought was brilliant and well worth the journey. I love the character of Meenah because she doesn't conform to the stereotypes of Asian women usually seen on the screen – they're either 'Asian babes' or passive homemakers cooking chapatis all day long. Meenah reflects reality much more truthfully.'
Archie's television work includes Dad, The Thin Blue Line, The Knock, Under the Moon and London's Burning. She is an experienced radio actress and has appeared on stage in numerous productions for Tamasha Theatre Co.
Archie finds Meenah a very appealing character: 'Meenah loves conflict – if there's an argument, you can bet she'll be right in the middle of it. She's not malicious, she just likes making trouble and gets grumpy if she's not the cause of it. She's lucky really because most of George's aggression is aimed at the older kids, so Meenah can get away with being loud and playing football!'
NAZIR KHAN (Ian Aspinall)
East is East is Ian's first film role. Ian's theatre credits include: Cloud Nine for the Contact Theatre, Manchester The Little Matchgirl, Operation Elvis and Blood Brothers for M6 Theatre Company; The Northern Mystery Plays for the Crucible Theatre, Sheffield; Beauty and the Beast for the West Yorkshire Playhouse; Nimai, The Spirit of Vrindavan for the Haymarket Leicester; Romeo and Juliet for Oldham Coliseum; Mother Draupadi, Jack and the Beanstalk and Baths for the Octagon Bolton. Ian has appeared on television in: Casualty, Peak Practice, Invasion Earth, Body and Soul, How to be Cool, Gigglish Allsorts, The King of Farawania, Band of Gold II, The Fragile Heart, Supply and Demand, City Central I and II.
AUNTIE ANNIE (Lesley Nicol)
Lesley created the role of Auntie Annie in the original stage production of East is East at the Royal Court. In her busy television career, credits include Staying Alive (series I and II) Dinnerladies, Casualty, Peak Practice, Heartbeat, The Ward, Blackadder II, Lion, The Witch and the Wardrobe, Silver Chair, Russ Abbot (series I and II). Paper Kisses and The Grand. Recent theatre appearances include Dreaming at the Royal Exchange, Odysseus Thump and Lucky Sods for the West Yorkshire Playhouse, Rise and Fall of Little Voice at Derby Playhouse, Joking Apart at Greenwich Theatre, and Blood Brothers at Leicester Haymarket.
EARNEST (Gary Damer)
11 year old Gary is a student at the Ragged School of Drama. In addition to appearing in East is East, Gary has also played Ginger in The Ward for Granada Television. Gary appeared as Chuck in the Dancehouse Theatre production of Tom Sawyer and played the part of Slug in Apprentice Witch for the R.N.S. M Theatre, Manchester.
MR MOORHOUSE (John Bardon)
John's many film roles have included appearances in: Clockwise, Ordeal by Innocence, Fierce Creatures, 84 Charing Cross Road, The Keeper, Seasick, Fords on Water, S.P.Y.S. and Gulliver's Travels. On television John has appeared in: Heartbeat, Eastenders, Lovejoy, The Darling Buds of May, A Royal Scandal, Brokers Man, Giving Tongue, The Detectives, Midsomer Murders, Polterguests, Frontiers and Mike and Angelo. John's many theatre roles include appearances in: An Inspector Calls, The Good Companions, Andy Capp, Here's a Funny Thing and Kiss Me Kate on the West End; Pravda for the Royal National Theatre; Fortune's Fool at Chichester; The Tempest, The Beggar's Opera, The Rivals and The Corn is Green for the Manchester Royal Exchange; plus touring productions of Gypsy, The Ghost Train and No Remission. John won an Olivier Award in 1988 for Best Performance in a Musical.
STELLA MOORHOUSE (Emma Rydal)
East is East is Emma's first film role. Whilst a student at Middlesex University, Emma was a winner at the 1994 National Student Drama Festival and the Guardian International Student Award at the Edinburgh Festival Fringe 1994. Emma's theatre credits include: Junk for the Oxford Stage Company; Rhinoceros at Riverside Studios; The Fall at Chelsea Arts Centre; The Snow Queen for Platform Theatre. Emma's television credits include: Dalziel and Pascoe; Hewitt; Playing the Field I II; Fist of Fun.
PEGGY (Ruth Jones)
Ruth's previous film credits include: The Theory of Flight for BBC Films and Emma for Matchmaker Films. Her theatre credits include: A Winter's Tale and All's Well that Ends Well for the RSC; Roots for the Oxford Stage Company; Under Milk Wood for the Royal National Theatre; The Hairy Ape for the Octagon, Bolton; The Marriage of Figaro and Tartuffe for Pan Optic Theatre Company; and Mail Order Bride for The Royal Theatre, Northampton. Ruth has appeared on television in: As Time Goes By, Picking up the Pieces, Drovers Gold, Every Cloud, Throw Another Log, Except for Viewers, The Fridge.
MR SHAH (Madhav Sharma)
Madhav's Film credits include Giro City, Up the Front, The Awakening, Tangled Web and Shadey. Amongst his extensive televison credits are Bugs, Dream Team, Trial and Retribution, Inspector Alleyn, McCallum and The Bill. Madhav has a wide range of theatre credits including Tom Stoppard's Indian Ink in the West End and No one was Saved at the Royal Court.
AYUB KHAN DIN (Writer)
'I was pretty useless at school. I remember sending my brother a letter, he's in the navy, and it was so unintelligible that he stuck it on the notice board with an offer of £20 to anyone who could make sense of it! Anyway, at drama school, we had to write something as an exercise. Given my academic record, I thought it would be a nightmare but for some reason, I enjoyed it so much that I wanted to do more. What's more, I found out I was quite good at it! I started writing this piece which turned into a kind of family saga – the life I'd lived at home in Salford, the colour and community – but then I finished my course, so I stuck it in a drawer and got on with my day job as an actor. Years later, the Royal Court were looking for new Asian writers and out it came, eventually developing into East is East.'
The multi-award winning play East is East was Ayub Khan Din's first outing as a writer, although he is a well-known film and television actor whose credits include Sammy and Rosie Get Laid (1987, directed by Stephen Frears) and London Bridge. East is East was first produced at the Royal Court theatre in 1996 and was an instant success, selling out before it even opened. It then went on a national tour before returning to London at the Theatre Royal Stratford East and the Royal Court at the Duke of Yorks. Ayub won the Writer's Guild of Great Britain Awards for Best West End Play and Best New Writer and was nominated for the Laurence Olivier Award for Best New Writer. Ayub's second play, Last Dance at Dum-Dum, opens in the West End in July 1999.
LESLEE UDWIN (Producer)
'I had seen a very early reading of the play which I enjoyed but when I saw the first night at the Royal Court in 1996, I fell completely, wildly head-over-heels in love with it. The extraordinary thing was how it unified the audience – I'm a Jewish woman with no Pakistani or even English antecedents yet the man I was watching was my father. I was shocked and moved and thrilled by the familiarity of what I was seeing, and felt that same reaction, that echo, in the other people around me, all laughing and crying in the same moment. What resonates is a universality, a rebellion against parental authority which speaks to everyone. I knew instantly that it would be a terrific film and that I wanted to make it – that evening I said to Ayub "I'm on to your agent first thing in the morning!"'
East is East marks Leslee's first foray into producing feature films. As a television producer, she was responsible for the award-winning Who Bombed Birmingham, a two-hour drama that is considered to have helped bring on the release of the Birmingham Six after 17 years of wrongful imprisonment. Previous production credits include episodes of In Suspicious Circumstances and the BBC Screen Two, Sitting Targets.
DAMIEN O'DONNELL (Director)
'Although I loved the script, I had my doubts initially about whether I was the right person to direct it, having no links with Pakistani culture. Then I realised that it was a film dealing with an immigrant's experience, about moving across the world and coming up against different ways. I was struck by how widespread an experience this was, how pertinent today, when so many people are forced to move to find a better life. It was then that I understood that it wasn't a film about Pakistanis in Salford, it was a film about family tradition versus progress, about the values of the old versus those of the young, themes everyone can relate to, so I said I'd give it a go!'
Damien emerged as a talent to watch with his sharply observed short film Thirty Five Aside, which follows an awkward schoolboy's misadventures when he starts at a new school. The film has won more than 30 awards worldwide including The Talent, the BBC's New Director Prize 1998; Best of the Festival, London Film Festival 1996; Best Short Film, Quebec Film Festival 1996; Audience Prize, Geneva International Film Festival 1996; Best of the Festival Selection, Edinburgh Film Festival 1996; and the Audience Vote Best Short Film, Sydney International Film Festival 1996. Damien received recognition for Thirty Five Aside in territories as varied as Spain, Germany, Ireland, France, South Korea, Italy, USSR, Sweden, Greece, Chile, Switzerland, Portugal, Australia, Wales and India.
BRIAN TUFANO (Director of Photography)
Brian is best known for his work on Danny Boyle's hit features Trainspotting (1995) and Shallow Grave (1994). He continued his collaboration with Boyle and producer Andrew MacDonald on A Life Less Ordinary (1997) and the upcoming Alien Love Triangle starring Kenneth Branagh, Courtney Cox and Heather Graham. Also, still to be seen is Virtual Sexuality (to be released, directed by Nick Hurran). Previously Brian worked on the re-release of Quadrophenia (1979/1997) plus on television series such as Silent Witness, Common as Muck and Middlemarch for which he received a BAFTA nomination for Best Cinematography.
'Banner Man' written by COOK, GREENAWAY & FLOWERS, performed by BLUE MINK
Publishing: Cauliflower Music care of Bucks Music
Recording: Trojan Recordings Ltd
'Strange Kind of Woman' written by LORD/ BLAKEMORE/ GILLIAN/ GLOVER/ PAICE, performed by DEEP PURPLE
Publishing: B Feldman Hec Music care of EMI Music
Recording: EMI Records Ltd
'Wonderful World, Beautiful People' written and performed by JIMMY CLIFF Publishing: Island Music Ltd care of Universal Music
Recording: Trojan Recordings Ltd
'Double Barrel' written by RILEY, performed by DAVE and ANSELL COLLINS
Publishing: Westbury Music
Recording: Westbury Music
'Sitting in the Park' written by STEWART, performed by GEORGIE FAME
Publishing: EMI Music Publishing Ltd
Recording: Polygram Records care of Universal Records
'On a Carousel' written by NASH CLARKE & HICKS, performed by THE HOLLIES
Publishing: Dick James Music care of Universal Music
Recording: EMI Records
'When I'm Dead and Gone' written by GALLAGHER/ LYLE, performed by MCGUINESS FLINT
Publishing: EMI Music Publishing Ltd
Recording: EMI Records
'Moving' written by COOMBES, QUINN, GOFFEY & COOMBES, performed by SUPERGRASS
Publishing: EMI Music Publishing Ltd
Recording: EMI Records (Parlophone)
INDIAN MUSIC:
'Ihne Logon Ne' from 'PAKEEZAH' Gramophone Company of India Ltd
'Chalo Dildar Chalo' from 'PAKEEZAH' Gramophone Company of India Ltd
'Main Chali, Main Chali' from 'PROFESSOR' Eagle Films
'Chaudvin Ka Chand ho' from 'Chaudvin Ka Chand' Guru Dutt Films
FILM SCORE: Deborah Mollison
'Allah-Hu' written by Mollison, sung by Latafat Ali Khan & Shahid Sunny
'Wedding Scene 1' written by Mollison & Rajan Kolhhar, sung by Latafat Ali Khan & Shahid Sunny